Notes of Congratulations

Special notes of congratulations and best wishes to all the outstanding players and great people that we have been honored to know through high school, American Legion, college, and BLWL Baseball.  Also, the many friends made through private instruction and participation in Sports Academy programs.  Thank you for allowing us to participate with you, in this, the greatest game of all.

Players, parents – please update us and correct us when necessary.  We want to honor you here for your special accomplishments.  Included in this list will be the approximate dates of our privilege to have shared baseball moments with these special people.

1984
Ken Dickson
Houston Astros Signee
1990
Alex Tolbert
Pittsburgh Pirates Signee
1990
Rhett Ingerick
New York Yankee Signee
1998
Hal Chafey
St Louis Cardinals Signee
1997-1999
Lee Curtis

Southern Conference Player  of the Year   Boston Red Sox Signee

1998-2000
Nick Achberger
Frontier League
2003
Shelton Cisson

NCAA All-American (Erskine)                             All-Time NCAA II Hits Leader

1998-2005
Chas Anthony

Multiple times NCAA All-American NCAA II (Erskine)  All-Time NCAA II Doubles Leader

2003
Tommy Lentz
Big South Player-of-the-Year
1998
Will Callaway
San Francisco Giants Signee
1998
Jared Locke
Frontier League
1998-1999
Clinton McKinney
Colorado Rockies
1998-2000
Emilio Pagan
Seattle Mariners
1998-2000
Daniel Palka
Arizona Diamondbacks
1998-2014
J. D. Burgess

Clemson Signee                                              Head Baseball Coach Pickens High

1998-2014
Matt Smith

Head Baseball Coach Pickens High,   Assistant Byrnes High                           Assistant Pickens High

1998-2012
Kevin Pucetas

San Francisco Giants Signee                             MLB Futures Game Participant                        All-Prospect Team                                              Class A Starting Pitcher-of-the-Year               Class A All-Star                                                   PCL Mid-Season All-Star

1998-2000
Brett Harker

Philadelphia Phillies Signee                                Pitching Coach Furman University                     Head Coach Furman University

2000-2001
Taylor Black

Assistant Coach NC State                                   St Louis Cardinals Draftee                                Started 95 consecutive games at Kentucky SEC and Big South All-Academic

2007
John Bolding
NCAA All-American (Erskine)
2001
Kyle Enders
Member of the USC National Champions
2001-2003
Brady Thomas
Member of the USC National Champions
2007
Scott Wingo

Member of the USC National Champions      Assistant Coach North Greenville University    Assistant Baseball Coach Jacksonville Univ

1998-2000
Jason Burke

Assistant Coach Wofford College, Gardner Webb University, Southern Wesleyn                  Head Coach Lander University

2000-2008
Jake Koenig

SMC, UNC-Wilmington                         Assistant Coach SMC

2010-2013
Bradley Jones
Toronto Blue Jays draftee
2009-2010
Jonathan Rosenberger
Assistant Baseball Coach Anderson Univ.
2016
Chase Ferguson
UCS-Salkehatchie signee
2016
Griff Cassell
Milligan College signee
2016
Andrew Stanifer
Milligan College signee
2016
Chase Stephens
Anderson University signee
2016
Trey Weisner
Anderson University signee
2016
Austin Morgan
USC Upstate signee
2016
Mason Stewart
USC Upstate signee
2017
Ashton Hawkins
UCS-Salkehatchie signee
2017
Joshua "Bones" Morrow
UCS-Salkehatchie signee
2017
Kolby Giles
Perfect Game All-Tournament Selection
2016                    Thomas Jones                         Miami Marlins – Round 3
Congratulations to Daniel Nations
Newberry College pitcher Daniel Nations won the 2016 Division II Gold Glove, as announced by the American Baseball Coaches Association.  Nations was Newberry's first-ever national Gold Glove winner and the first South Atlantic Conference honoree since 2012.
Nations – who graduated from Newberry College – is a native of Central, S.C., and was the winner of the South Atlantic Conference's Gold Glove honor and was also an honorable mention all-conference starting pitcher.
Nations committed no errors that year in 88 innings of action on the mound, recording four putouts and 23 assists. Nations was also effective with runners on base, as only three of nine potential base stealers were successful against him. He finished the year with an 8-1 record with two saves and a 3.48 earned run average, striking out 80 and walking 42.
Thank you, Daniel Nations, for your valuable contributions to the 2012 Big League World Series US Championship.  Congratulations on your Gold Glove Award at Newberry and also on your outstanding baseball career.
Tribute to My Favorite Baseball Players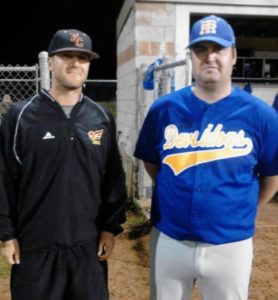 The year 2015 was  special.  My two favorite baseball players Brett and Matt ("Whitey") Youngblood have been inducted into two special Halls of Fame.  Brett is a member of the Travelers Rest High School 2015 Hall of Fame class.  Matt is a member of the All-Time South Carolina District One baseball team.  He is also honored to be a member of the BLWS All-Time team.  Tremendous honors for my two favorite baseball players.
Brett was named Travelers Rest High's 2001 Male Athlete of the Year.  He made history in 2000 and 2001 when he was named All-Western AAA at two different positions in two different seasons.  He was All-Region as a pitcher and a first baseman.  Brett also earned All-County and All-State honors in 2001.  The 6'1" lefty was named TRHS MVP in 2000 and 2001.  His senior season saw the Devildogs claim District and Upperstate Championships.  Brett participated in the 2001 SCBCA North/South All-Star Baseball games.  He was selected to the 2001 BLWS Host team.  He was also a vital member of the 2000 North Greenville American Legion baseball team which won the only league championship in program history.  A side note:  Brett was also named All-Region , All-County, and East-West All Star for the TRHS basketball team.
Matt Youngblood's baseball career is highlighted by winning games.  His college career saw his teams amass over 145 wins.  He was a .310 hitter with a .995 fielding percentage.  He committed only five errors in his college career.  Matt was captain of the 2007 BLWS World Champions, driving in crucial runs and directing the game from behind the plate.  "Whtey" lettered four years at TRHS and was named All-Region and All-State in 2006.  He was selected Defensive MVP and was chosen to participate in the SCBCA North/South All-Star games.  Matt, now an assistant coach at Erskine College, played in the Fleet's first ever NCAA postseason win.  Coach Kevin Nichols nicknamed him "Sparky" calling Matt the team leader during this celebrated time in Flying Fleet baseball.   Nichols made many references to "Whitey's" ability to come up with clutch hits igniting rallies or driving in crucial runs.
My favorite baseball players.  They displayed some skills.  More importantly they were and are intense competitors that respect the game, coaches, opponents, and teammates.  They are men of character with a love of the game and a desire to help players.  After a distinguished career at Anderson University, Brett now works as a webmaster for three baseball companies.  He is an assistant coach at TRHS.  Matt continues to enjoy his job as an assistant coach at Erskine.
Hall of Famers.  Even better men.  They have done so much to have their part in making me feel like the most fortunate man alive.  Congratulations to my two favorite baseball players.  Even more so remember that one day our Lord will say, "Well done.  Enter into the joy of your salvation."
Special Notes of Congratulations to Jay Jackson
Jay.  YOU DID IT!  You made it to "the show!"  The San Diego Padres have given you the opportunity to show the world what he saw here in Greenville, SC.  A young man with talent but also with a competitive fire that is unmatched.  I am honored to know you and your special family.  Thank you for being a great example to younger players.  Your drive and determination is an inspiration to all.  Congratulations again to my wonderful friends Jay, Randy, Janice, and Jaz.  Enjoy every moment of a dream come true.
Special Notes of Congratulations to Lee Curtis
Congratulations Lee Cutis, 2015 College of Charleston Baseball Hall of Fame inductee.  Lee holds the all-time career hitting mark at C of C.  He hit .404 in his two years with the Cougars.  Curtis was named Southern Conference player of the year both seasons.  Curtis holds records with a .742 career slugging percentage and 20 triples.  These are also league records.  In 2003, Lee was the only player in college baseball to have double figure totals in homers (11), RBI's (64), doubles (26), stolen bases (20), and triples (11).  My congratulations to one of the best SC has ever produced.  Thanks for choosing to be a part of our program.